Professional models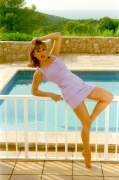 I use a number of different sources for my models. All of the models here are professional models, and most come from either Geos Models, which used to be called Sunbird Studios, based in Newport, Gwent; or from the now defunct Catchlight Photographic based in Warwick. A small number of models have been found at other studios: West Cost Studios in Blackpool, North West studios in Wigan, and LA studios in Leeds.
Geos also offer photographic trips to Ibiza every October with a small selection of models. The emphasis is definately on having fun rather than the photography, but the photographic sessions themselves are always extremely well organised, and there are some stunning locations used. The Ibiza pgotographs have been separated out into a new section.
Because there are so many models, I have split them up by studio. This is for simplicity on my part, and to keep the number of images on any one page down a bit, rather than for any other reason. This is in the process of being changed (again), this time into alphabetical order I suspect. For the time being, these pages are being maintained almost on an ad-hoc basis, until I get the new layout completed.
---
Back
Copyright © Dave Stratford